As the weather gets cooler and the clothes get comfier, we are FALLING back in love with autumn. Here's our rundown of some DIY fall skincare recipes for the 2022 sweater-weather season!
The great debate—Pumpkin spice vs. apple cider
It's one of the greatest seasonal debates of our time. Pumpkin Spice vs. Apple Cider. Although you CAN be a fan of both, we've noticed people are usually strongly opinionated about one or the other. Whether it's because of a certain nostalgia, taste, or overall preference–We've got you covered so you can enjoy the benefits from both worlds.
The not-so-basic benefits of pumpkin
When you think of autumn, you think of pumpkins. It's inevitable. Pumpkins come in all shapes and sizes and can transform any space, indoor or outdoor, to give you the perfect fall aesthetic.
Although pumpkins are seasonal, we think you should be getting the benefits from them year round!
Pumpkins are a superfood, packed with benefits for your body, skin, and overall health.
Pumpkins are rich in vitamins and minerals that improve your skin, improve eye health, promote weight loss, boost your immunity, and plenty more amazing benefits from this festive food.
Even pumpkin spice has health benefits–if you cut the sugar, of course. Pumpkin spice contains spices such as ginger, which contains iron, potassium, and zinc. Nutmeg is another ingredient, which is packed with vitamin B and minerals. Cinnamon is also loaded with antioxidants. So to the pumpkin spice haters, it can benefit your health!
Exfoliate your skin this fall with a DIY pumpkin enzyme mask!
Can't get enough pumpkin? Neither can we! This pumpkin mask recipe will give you a hydrating, natural glow, while also making you smell incredibly scrumptious. Be sure to only exfoliate gently once per week.
Exfoliating opens your pores, allowing the human stem cell factors to penetrate deeper into your skin, activating your own stem cells to produce more growth factors such as collagen and elastin.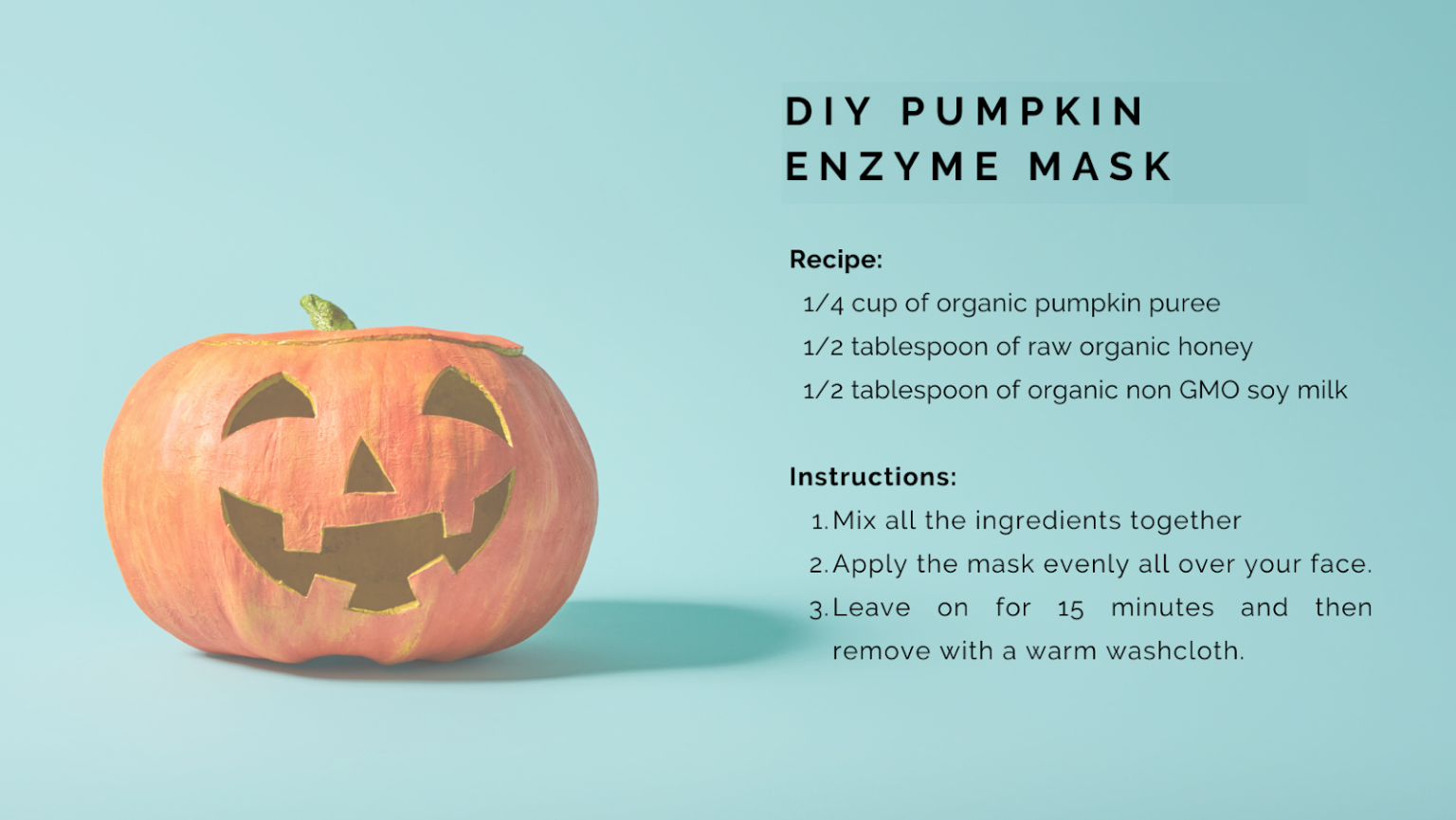 The in-cider information about apples
I can't fight this peeling anymore, I have some apple-solutely amazing facts about apples that will give you all the peels. Enough apple puns? Got it.
You all know the saying "An apple a day keeps the doctor away." It's no secret that apples contain amazing benefits for your skin and body.
This crisp fruit is high in antioxidants, fiber helps with digestion, keeps your heart and brain healthy, and is packed with vitamin A to prevent aging and boost collagen. Time to slice… I mean spice it up!
Check out this detoxifying apple cider face mask
This recipe is a pHenomenal* way to balance the natural acids found on your face. The best part about this recipe is that you probably already have these ingredients in your kitchen. There are various reasons why you should always keep a bottle of apple cider vinegar handy, but this DIY face mask recipe might just be the best one yet.
Dryer weather equals dryer skin, so make sure to follow up with a deeply nourishing moisturizer.
Best of both worlds
I think team cider and team pumpkin can both agree that these festive foods contain many benefits for your skin and body. Although you may prefer one to the other, try something different this fall and step outside of your comfort zone, your skin will thank you later!